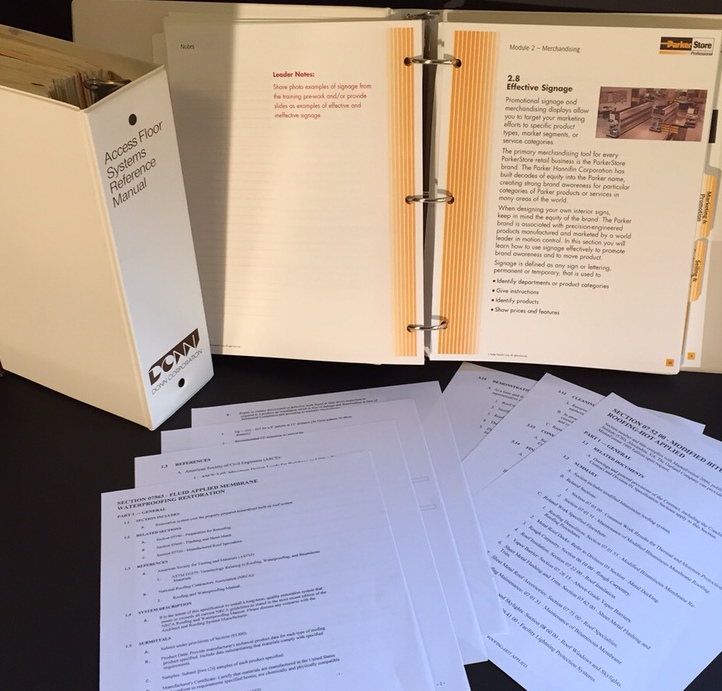 Knowledge Retention Document Repository for Family-Owned Business
Specification Documents for a Manufacturer of Commercial Construction Materials
On-Line Training for Organization Providing Mobile Technical Services Worldwide
Master Prospectus for a Construction Industry Manufacturer/Distributor
Multi-Media Training for a Global Technical Trade Organization
Operational content is the lifeblood of many enterprises, including manufacturing and engineering organizations. When growth is rapid or changes in leadership or ownership occur, preserving the integrity of operational procedures and product- and service-related data is critical to organizational stability.

Whether content is delivered via cell phone, online, in person or in print - technical communications require precise, unambiguous language targeted at the comprehension level of the intended audience. This requires the ability to think rapidly across multiple disciplines without losing focus, guiding engineers from detailed descriptions to the higher-level concepts that explain the relevance of those details. A progressive and thorough review process is similarly critical to ensuring success.

Over decades of technical content creation experience, Joanne has developed expertise with a variety of content development tools that ensure accuracy and consistency across multiple iterations of documents, such as specifications, proposals, warranties, product data sheets, or Globally Harmonized System (GHS) material handling data.